Life Members of KDNA
| | |
| --- | --- |
| Andrew Milne | Nicole Mckennay |
| Carolyn Foeken | Jenny Cuneo |
| Cath Jolley | Yvonne Lynch |
| Patrica Storer | Terry Hackett |
| David Storer | John Ritchie |
| Dorothy Cross | Ian Thompson |
| Eileen Murphy | Kerry Hutchinson |
| Jenny Lewis | Pat Taylor |
| Jenny Warwick | Val Bruni |
| Kaye Hunter | Trudy Corcoran |
| Zena Hammarstorm | Susan Broad |
| | |
(current President)
Anne Moseley           (Life member 1979, Secretary 1973-79, Treasurer)
Tosh Tieleman          (Vice-president, Carnivals Coodriator, President of Tangos)
Yvonne Robinson     (KDNA coach, Commitee member)
Janet Thorton           (President)
Lee Wilkie                  (Commitee member for 11 years rising to President)
Lynn Gay                    (current Commitee Member)
Pauline Packer          (represented State)
Sue Fletcher              (Life member 1975, Treasure, Vice President, Umpire)
Back Row – Lynn Gay, Andrew Milne, Nicole McKennay
Front Row – Sue Fletcher, Lee Wilkie
Our Life Member Patricia Storer presenting the boys netball finalise team with their trophies.
Patricia has been apart of KDNA since her daughters Vanessa and Caroline Storer started in 1984.
Soon after Patricia became more involved with KDNA helping as Treasurer, Events Cooridator, Trophie/Uniform Officer and was Team Manager for several KDNA Association teams all on a volunteer basis
Patricia is also Life Member of the Region
Our very first Life Member Sue Flether presenting finalise Lesmurdie Warriors with their trophies.
Sue has been with KDNA since the start in 1970, playing many roles within our assoication, first being a player for KDNA then going on to being apart of the first committee, Treasurer, Umpire and Vice-President in 1990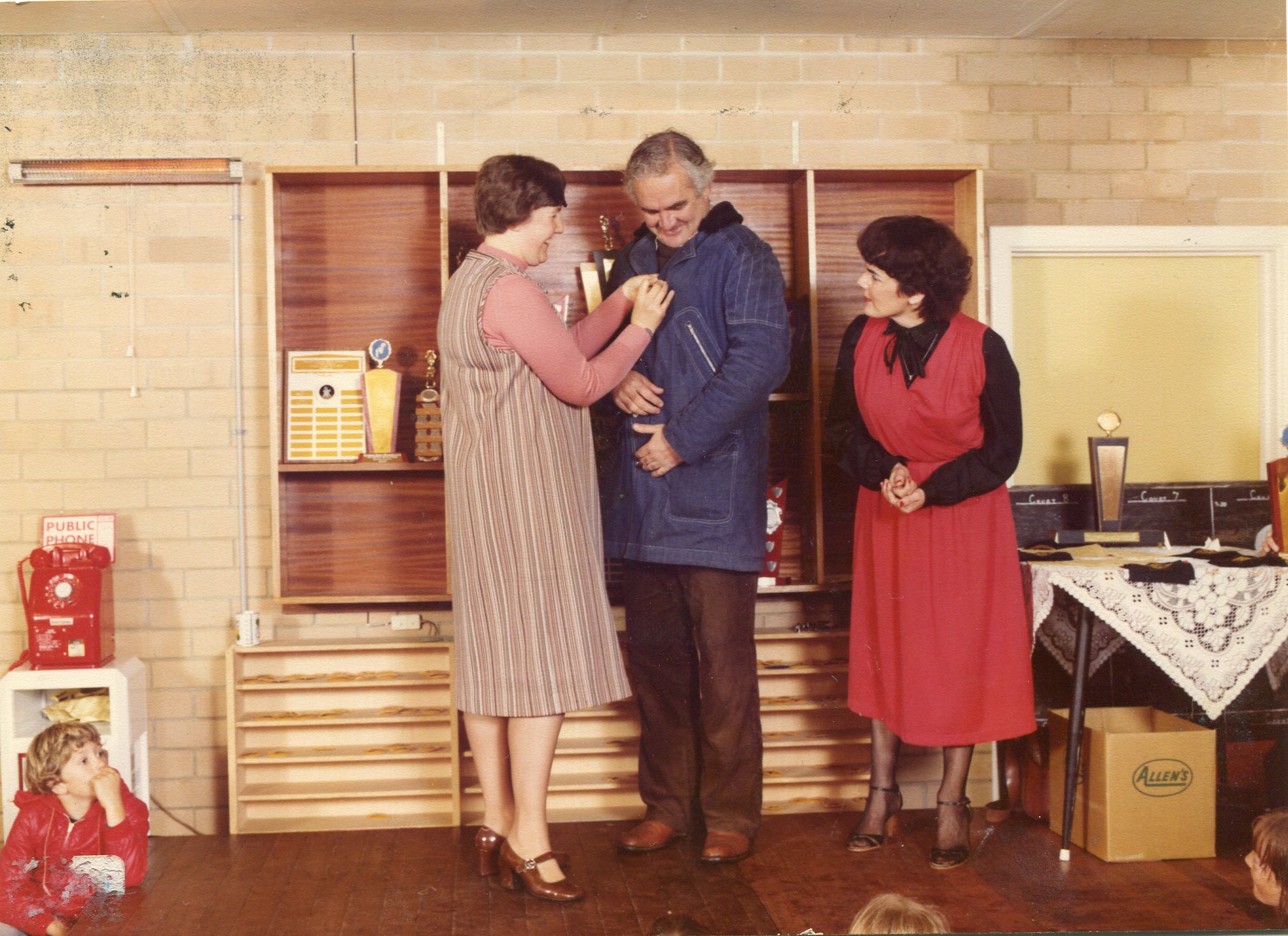 Life Member Presentation in 1987
A life membership to KDNA was presented to John Ritchie by Sue Fletcher
John Ritchie was a Committee Member of KDNA, the court manager from 1973-78, part of the Kiwales Club and was always looking new ways to develop the junior divisions
Terry Ritchie, John's wife, can be seen in this photo as the beautiful lady in red. Terry was also made a life member in 1979. Terry was a commitee member in 1972 working her way up to President in 1975 to 1979. Terry started the junior divisions for KDNA and ran them for many years
Life Member Presentation in 1986
A life membership to KDNA was presented to Kaye Hunter by John Ritchie
Kaye was an umpire for KDNA for many years
Kaye was the President of the KDNA and also the president for Hillians Club
Kaye apart of Region
Life Member Presentation in 1985
A life membership to KDNA was presented to Jenny Lewis by John Ritchie
Jenny was part of KDNA from its birth in 1970, she was part of the first commitee for multiple years then in apart of the sub-commitee and was the President of the St Brigids netball club 
Life Membership Presentation for Pauline Packer in 1999
Pauline Packer represented KDNA at state level
Yvonne Robinson receiving coaching award in 1994
Yvonne coached many top netballers including Dianne Ring who went on to represent the state
Yvonne was also on apart of the KDNA Commitee for many years
And helped with the constructionof the indoor courts at Ray Owen
 Kaye Hunter and June Coopes at the 20th year Celebration of KDNA
Beautiful photo of our Life Members Jenny Lewis, Ian Thompson and Kaye Hunter at the 20th Celebration Event for KDNA in 1990
Ian Thompson (MLA) was a member of parliment for Kalamunda and the patron for KDNA for many years, Ian was very supportive of KDNA donating many trophies and presenting to the players at all grand finals.